The Homestead Vein Center is the first dedicated medical facility for the treatment of lower extremities venous disease in the area. We have been serving not only patients from Homestead but also Miami, Redlands, Kendal, Florida City and the Florida Keys. Prior to our opening patients had to travel to Miami for this kind of evaluation.
In the area of venous disease we offer a complete solution. From evaluation to treatments we have it all in our Center. We offer the latest ultrasound technology to aid in diagnosis. In terms of procedures we perform the full range of available modalities to provide our patients with a complete solution. Venous ablations, phlebectomies, sclerotherapy and other procedures are performed in our facility with minimal downtime and excellent results.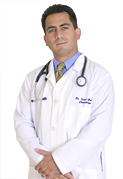 Dr. Galtes was born in Havana, Cuba. He obtained his medical degree from the University Of Havana School Of Medicine. Early during his education he paid close attention to the importance of history taking and physical examination as technological resources were scarce at that time. He was rapidly infused by his professors on the philosophy of devoted patient care and true concern for the ill.
He graduated with honors and was selected to participate in the Talent Program, a selected group of doctors that based on their accomplishments were granted the subspecialty of their choice at a time when this was a great privilege. Dr. Galtes was planning to enter his Cardiology training then.
Despite this Dr. Galtes decided to emigrate to the US and after sitting for the medical board examinations started training at Michael Reese Hospital in Chicago where he specialized in Internal Medicine. During his residency he received the Best Intern Award as well as the Alfred Pick Award to Academic Excellence.
He continued his training at Mount Sinai Medical Center in Miami where he finished his Cardiology Fellowship. Later on he dedicated a year to Interventional Cardiology training.
Dr. Galtes truly believes in up to date knowledge of the advances in cardiac and vascular medicine as a way to provide optimal patient care. He assists to most major cardiovascular conferences yearly.
Dr. Galtes is also a diplomate of the following subspecialties :
- American Board of Internal Medicine. Internal Medicine.
- American Board of Internal Medicine. Cardiovascular Diseases.
- American Board of Echocardiography.
- Certification Board of Nuclear Cardiology.
- American Board of Internal Medicine. Interventional Cardiology.
Dr. Galtes specializes in treatment of venous disorders. Under his leadership the Homestead Vein Center was created to attend to those with lower extremities venous disease.
In his spare time Dr. Galtes dedicates time to his horse breeding ranch, he also enjoys photography, tennis and water sports.